Who IS Kyle Farnsworth?
By Bryan Koch
It became agonizingly clear quite early on in the off-season that the Yankees' bullpen, which was nauseatingly unreliable last season (the bullpen itself actually reeked of vomit thanks to fans in the bleachers), is actually going to deteriorate over the winter months. B.J. Ryan wet himself in fear of entering the Big Apple. The Ageless Tom Gordon (who reserves his bladder-control difficulties for October) decided that he's worthy of a three-year contract. Billy Wagner is an aging, hard-throwing left-handed southpaw with an enormous reputation who received more money than he deserved. The Yankees already tried that trick with The Mullet. No dice.
Recently, reports began to filter in that the Yankees were targeting pitchers like Kyle Farnsworth, Braden Looper, and Mike Myers for late-inning duty next year. Friends starting inquiring as to which of these relievers I preferred, which was something like asking me, "Hey, Bryan, are you going to put money on the Bills, Redskins, or Jaguars to win it all this season?" Look, all three of those teams have a mathematical shot, but everyone knows that in reality their chances of winning are in close proximity to my chances of landing a date with Melissa Theuriau. Obviously, she'd be quite interested, but the bottom line is that I don't speak a word of French.
Myers is a superb option for matching up against left-handed bats, but Joe Torre loves to see if his lefty specialists can record outs against right-handed batters, just for kicks, so even that worries me. Honestly, what can possibly be going through Torre's mind when he leaves guys like Mike Stanton and Al Leiter out against right-handed hitters?
"Well, they're hitting a hair over .400 against Leiter this season. Hrmm… I have Tom Gordon in the bullpen. Eh, forget it, it's bound to even out. Besides, Mel always gets cranky when I ask him to get up and call the bullpen. Couldn't they have upgraded us to cordless by now?"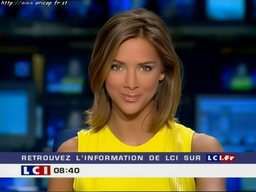 Melissa, please report the news for me. Please.
On a serious note: Torre threw Al Leiter, who just that week had made the transition to the bullpen, against right-handed batters in three different games of the ALDS. It boggles the mind. Whatever.
"Whatever" pretty much summed up my reaction this morning when I read that
the Yankees are closing in on an agreement with Farnsworth.
I know he throws hard. I know he makes Jeff Weaver seem temperate. Other than that, I know nothing.
So, I proceed as any technologically savvy sports-fan would. I Google him.
The first result worth mentioning is his profile on Baseball Reference. My reaction:
"Hey, Good ol' Farnsy had an ERA near two this season! Hey, a WHIP around one! His strikeout ratio is fantastic! This guy is our savior. I'm going to marry Kyle Farnsworth. Brian Cashman, you are a gen- …Wait a second. Last year, in Chicago, this bum's ERA was well over four and a half. He allowed more hits than innings pitched, not to mention him walking a batter every other inning. This guy is useless. I'm going to hunt down and kill Kyle Farnsworth. Brian Cashman, you are a mor- Hey! Kyle Farnsworth was money in 2003! His ERA…"
The inexplicable Farnsworth see-saw basically seems to always tilt one way or the other, alternating on a yearly basis. That bodes well for next season. And my anxiety.
Then comes a multitude of additional Farnsworth profiles, many of which describe him as a "flame-thrower." Should I find this mollifying?
Does he literally hurl balls of fire at the catcher?
Should I be concerned for Jorge Posada? What happens if he hits a batter? Should we have an extinguisher ready to save the poor guy's life?
The next interesting result provided by Google is a list of
notable Kyle Farnsworth quotes.
This has to be good. Let's chat it up.
Hey, Kyle, how do you feel about switching teams again?
"…I hate leaving here."
Are you sure?
"Change is always good… …I'm excited about that."
Well, at least you're as consistent as your numbers from year to year. Kyle, what do you say to yourself after a rough outing to revitalize your spirits? For instance, say you allow a game-winning home run.
"It's a game of inches. He hit it over the fence."
Wait, a game of inches? Isn't the fence over four hundred feet away?
"If it's another foot to the left, it's a double."
And you would have called that a success?
"You've got to give them credit."
You seem to have mastered it. Kyle, what happened with the playoff game in Houston?
"They battled hard."
They battled, but how do you give up three runs in two innings of the most important game of your life? Can Yankees fans trust you?
"You've got to give them credit… they kept battling and battling."
They certainly battled. Still, how do you explain your own failure?
"It's just one of those things that happens."
One of those things… that happens. Some things happen… and some don't… this is one of the things that hap- …Anyway, how do you feel about grunts?
"There's not much attention given to grunts in the middle."
You don't say? Alright, well, it's been a pleasure speaking with you. I look forward to a great many late-inning collapses next season.
"I've been looking forward to doing this for a while now."
Then you'll fit in just fine in the Yankee bullpen.